Crash Incoming?
Potential Bearish Scenarios
After thoughtful analysis I came to the conclusion that despite being labeled as a "safe haven" Bitcoin might face another turbulent chapter to the downside before having a serious chance of turning around, as we move closer towards the halving projected to be taking place in May 13 of this year.

If I end up being wrong, flame me, but I do not feel bullish at this time and did not feel like it since we broke down from the 10k level some weeks ago. The current price action seemingly confirms the downtrend being steady in place, the correlation with movements of the SPX500 does not make things better either. As I don't expect the traditional markets to recover anytime soon, and as Bitcoin seemingly mimicks the movement of these markets at this time, I do not think that we can start a new bull run without first moving violently to the downside at least once more. One could argue that investors have seen enough pain in this bear market, but then we need to understand that most bull runs are getting initiated after a last very violent shakeout which becomes a bear trap, thus providing the fuel for the start of a new bull trend up.

Please bear in mind that the following scenarios are just speculations and personal opinions. They are based on the momentary subjective opinion that the market is trending downwards and will continue to do so for some time, while I am always ready to change my perspective with new information at my disposal. After all nothing would make me happier to see Bitcoin spiking in this particular time/context of the world, but the chart does not seem to confirm it yet.
Point of Departure; Current Analysis
As outlined in previous letters, price got rejected in major resistance between $6,600 and $7,000 when bulls failed to break this critical level to the upside.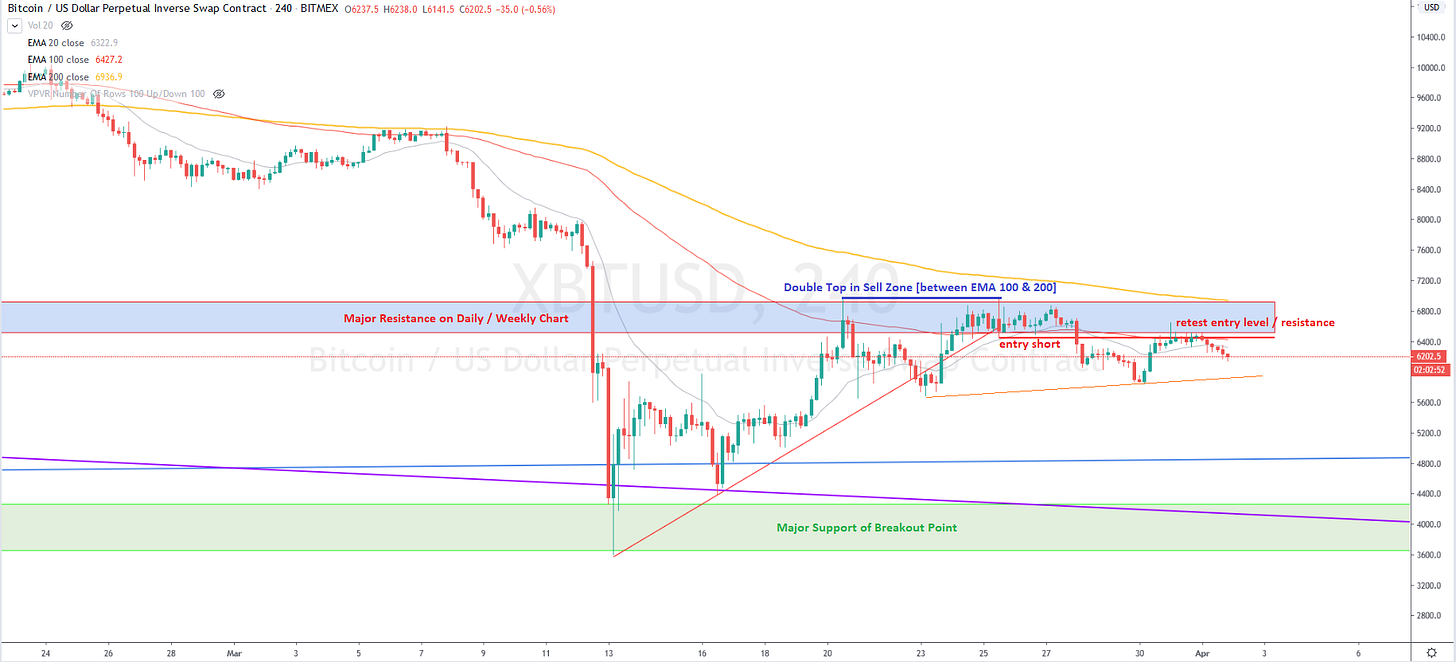 The Double Top around $7,000 is valid as of now and has been used by shorts to open positions as it broke downwards. From last post:
"Early birds will try and take the sell signal of the bear reversal at trigger $6,454. The bearish setup would be invalidated with a break above recent High at $6,984."
After the short entry got triggered we saw a short-lived downtrend which then reversed to retest the bear's entry level $6,454 as well as the overhead resistance zone. Once again, resistance held and sent prices lower, further confirming that the bearish trend is still valid.
Uptrend Possibilities
Patterns are no facts, but solely guidelines to explain behavior of market participants. As such, patterns can change, transform, morph and most of all - fail. If the Double Top fails there is a serious possibility that we see a strong rally forming instead of breaking down. But as long as $7,000 remains intact I do not see any reason to be buying this market without testing lower levels or at least further exhausting the downtrend currently in play. One could argue that a takeout of the recent $6,647 High is enough to invalidate the pattern at hand, but then again we have a strong overhead resistance at $6,666 and above, making it very difficult to assess whether we would be buying into a trap or not.

When it comes to downside projections there are only two levels of high interest to me as a longterm buyer. Although the distance between both levels is huge, both points in the chart would make a lot of sense for a sharper dump to stop. It highly depends on how severe the break will end up being, how much fear and panic will be generated as a result of such, and the general reaction/sentiment of market participants at that time.
[Scenario 1] The 2nd Breakout Point Retest - $4,255
The zone between $4,255 and $3,700 is highly significant in the history of the BTC chart, at least in the context of this and last years price action. Being the bottom of the downside break from $6,000 in end of 2018, the $3,200 Low is for now the definite bottom of this leg.
Entry Long @ $4,190 in April 2019
The major official long entry signal was when the trend reversed by forming a Higher Low, then a Higher High, also arguably a Cup & Handle over the course of several weeks and increasing buy volume towards the latter end of the formation.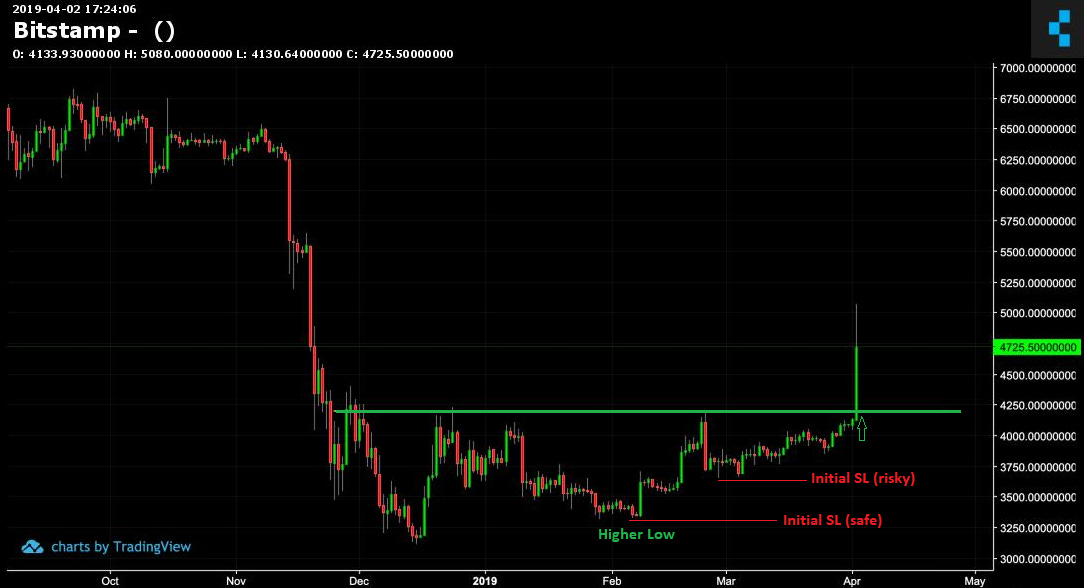 To be precise $4,190 would have been the exact trigger to enter a position long on the 2nd of April 2019, anticipating a complete trend reversal, which then manifested over the course of the next few months. Correct initial stoploss would have been below the Lows at $3,343 or $3,640 respectively, depending the trader's risk tolerance and style.
Usually, at some point over the course of a prolonged uptrend the momentum begins to fade, which may either lead to a Trading Range (sideways consolidation) or more or less sharper correction. In the latter case, the trend reverses to the downside and attempts to retest the point in which the previous rally emerged from - which usually is the first legit buy signal before the trend lifted up.

As said before the first legit long entry was at the $4,190 level. Of coure there were also earlier, more risky entries in this range, so the corrosponding support zone is being widened to include all major buy bars, coming up with a support zone of $4,255 to $3,700, as visualized below: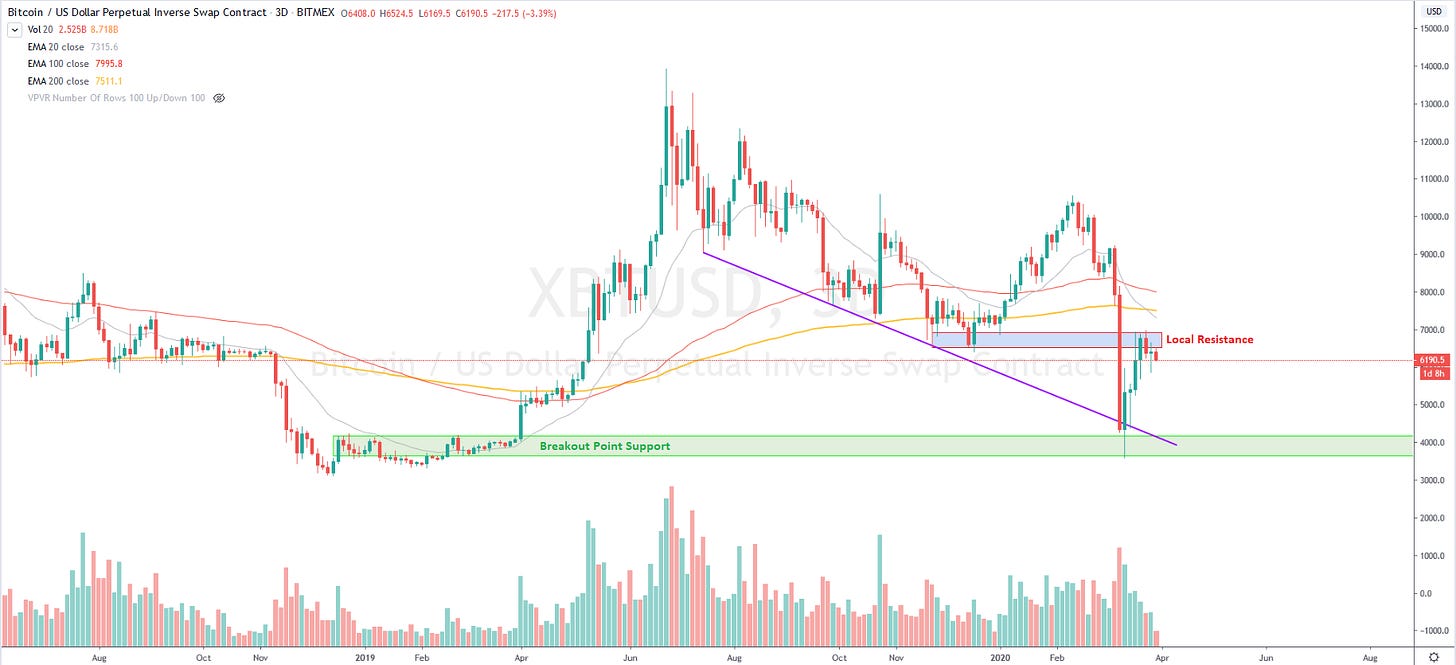 We can see that we have already retested this zone very precisely, but it happened very quick and violently and gave only a handful of traders the chance to buy at these valuations. Another retest to this level would be appreciated by the market, seeing this as a prime opportunity to buy at breakout support, a rare trader that offers excellent risk/reward ratios. The risk is relatively small as this is very often the relative precise point at which corrections reverse. At the same time, the reward might be very great if the market builds a strong rally after this precise touch (as you would buy the very bottom of a new trend emerging and can basically let it roll for long time, assuming the trend successfully develops from there).

Anyhow, expecting another drop in $BTC the level of $4,255 to $4,000 would be a great spot to buy. Technically the zone below $4,000 and above $3,700 is still buy zone too, but ideally we do not want to see another deep dive into the zone, just a slight second touch before we see buyers entering with significant volume soon after.

In case the price decline turns into full blown panic and mass-liquidations it might be that this support does not hold and we take out the $3,200 Low instead. In this particular case all hell will break loose in the markets and the confusion will reach a level unparallelled in the history of BTC. At this point basically everything is possible and price action will become very violent. Should this zone not hold, we potentially face the worst case scenario that is in my playbook since early 2017.
[Scenario 2] The Retest of Ancient All-Time-High - $1,090
In an earlier article in May 2018 "The Paramount Battle of 6k" I wrote:
[…] "the All Time High at $1090 back in 2013/2014 was such a significant point in the chart, a retest of that level under normal circumstances would be most logical."
Although it never got so far to retest this critical level, as selling got absorbed in the low $3,000 area after prices broke down violently from the $6k support, (another scenario I outlined in the above article) a similar situation is coming up right here, where a breakdown might occur, while we do not exactly know which of the critical levels will be hit or taken out. Buying the $4,255 support zone would be great, but if price just glides through there needs to be a Plan B.

Between 2017 and 2019 there have been so many new folks coming in, almost everybody doesn't know or has already forgotten how paramount this old level has been. To make a comparison, it is as significant as the current All Time High of $20,000 has been - and will be - in the future when it will be taken out. Simply said, the $1,090 level is the $20,000 level of a few years past. Imagine we are at $50,000 and the price begins to collapse; the very first point people would be interested in buying would probably be the old All Time High at $20,000 - being the previous most reliable support in the chart.

Anyhow given the very explosive stage the economic world is currently in, and given the fact that BTC quitely follows the moves of traditional markets which are prone to further collapse, one must have in the books a very worst case emergency scenario,
and this is it.
If prices reach the zone between $1,300 and $1,000 this is to me the biggest and single last buy signal in the history of Bitcoin. And no, I do not think this is particularly likely, so don't panic. Miners at that stage would be under severe struggle to maintain their operations, mining at a terrifying loss, and the longer prices would theoretically hold at such levels, the more miners would have to switch off their machines leading to a downspiral in hashrate and price. So I guess it should be an effort in the interest of everyone in this community to avoid such wild scenario in the first place.
But everyone who has seen the flashcrash on Mt.Gox to a single cent also knows that in Bitcoin things happen that nowhere else can be seen, and literally everything should be expected. By the way, if you are interested in what such flashcrash looks like, enjoy:
In a Nutshell
For the time being the Bitcoin market seems to be trending downwards and as long as it does, the support levels of $4,255 - $3,600 will be of most paramount importance.
In a worst-case scenario $1,300 - $1,090 will provide a last resort of support, although it is highly likely we will never see such low valuations in the first place. A bullish reversal and invalidation of the current bearish trend is at all times possible, but needs a very strong breakout on volume above the crucial $7,000 mark. Remaining with a bearish outlook while waiting for more information.

May the Source be with you,

CY

If you enjoyed this report, please Subscribe or Share this article, or check out my blog at CryptoYoda1338.com.



PS: For the sake of clarity, nothing above is an April's Fool Joke. Just to be on the safe side of things.